SímaSLI
Our website: here
---
---
Documentation
French presentations: here
Documentation is available on our website: here
SimaArduino
Features
Lists for fast processing/more readable
Flex sensors support
Microswitch support
1 finger = 6 states
Serial communication
Sends code every 150ms
It acquires the value of flex sensors and "remaps" to make a multiple of 3.
Then it tests in which state is the finger.
A code is sent to the host. (eg. 14111 represents "hello" in sign language).
Usage
Simply adjust the pins and it's ready to be upload on your board.
SimaSLI
The major update v5.0 brings a lot of changes, and new features.
The CLI version is now "legacy mode" or "console mode".
The GUI version is now the default version.
Features
Completely rewrote for Python 3.6
New GUI framework. Bye PyGame, hello Tcl-Tk (wich is more cross-platform).
XML Database file. No more txt file, fastest parsing.
Sima.core module. With all important python objects for words, database, arduino board.
New configuration system. Works with config object, wich can be modified during execution.
New interface. Hold your breath and take a look at the screenshots
Plugin loader. Yes! now we have a plugin system!
Fullscreen support. BYE DECORATIONS & TASK BAR!
Requirements
Run setup.py and all dependencies will be downloaded.
Usage
Download latest version: v5.0 beta.
Run sima.py.
Then juste follow the instructions... (for example if there is an update, all is automatic. It just depends of your configuration!)
Launch arguments:

-c or --console for leagacy mode.

-n or --noplugins disable all plugins.

-h or --help show help message.
Screenshots
Home screen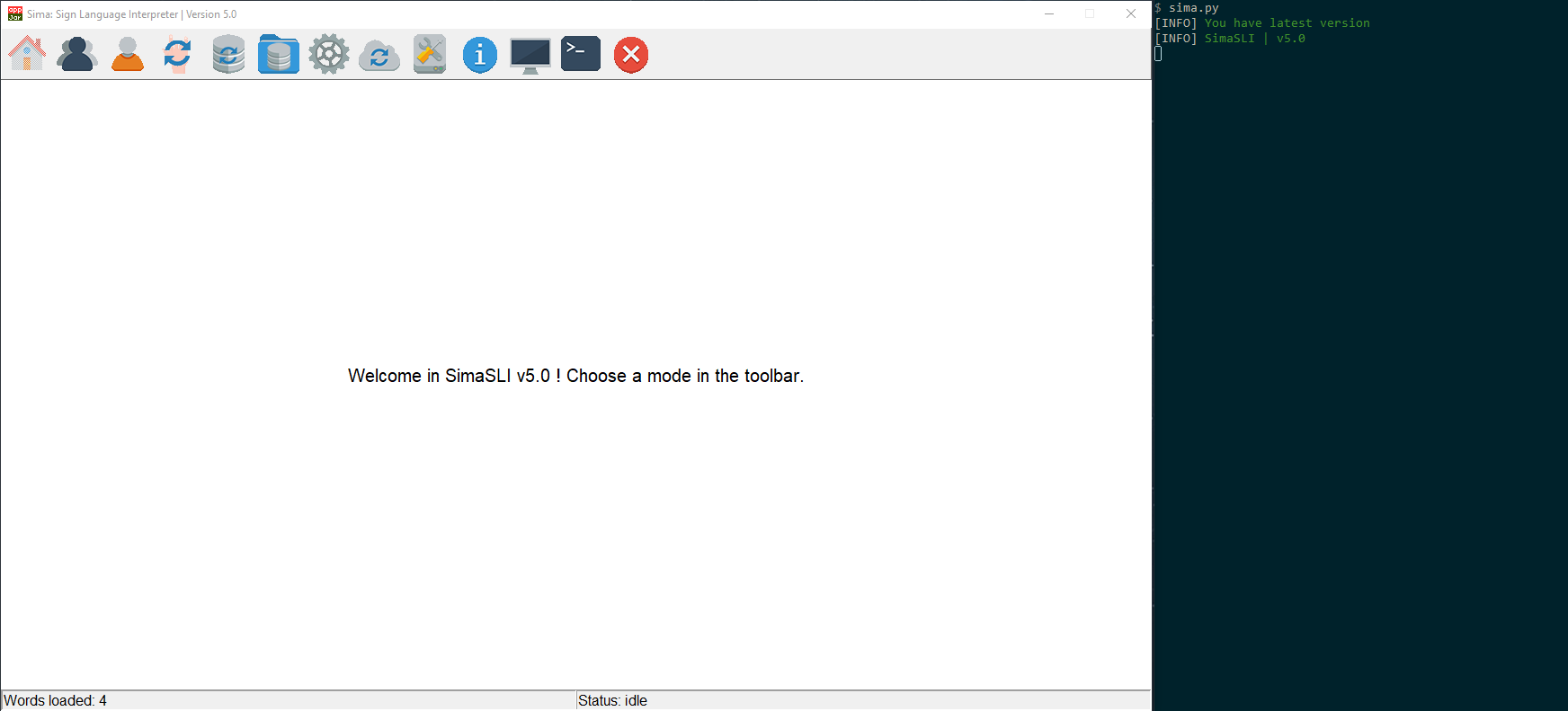 Configuration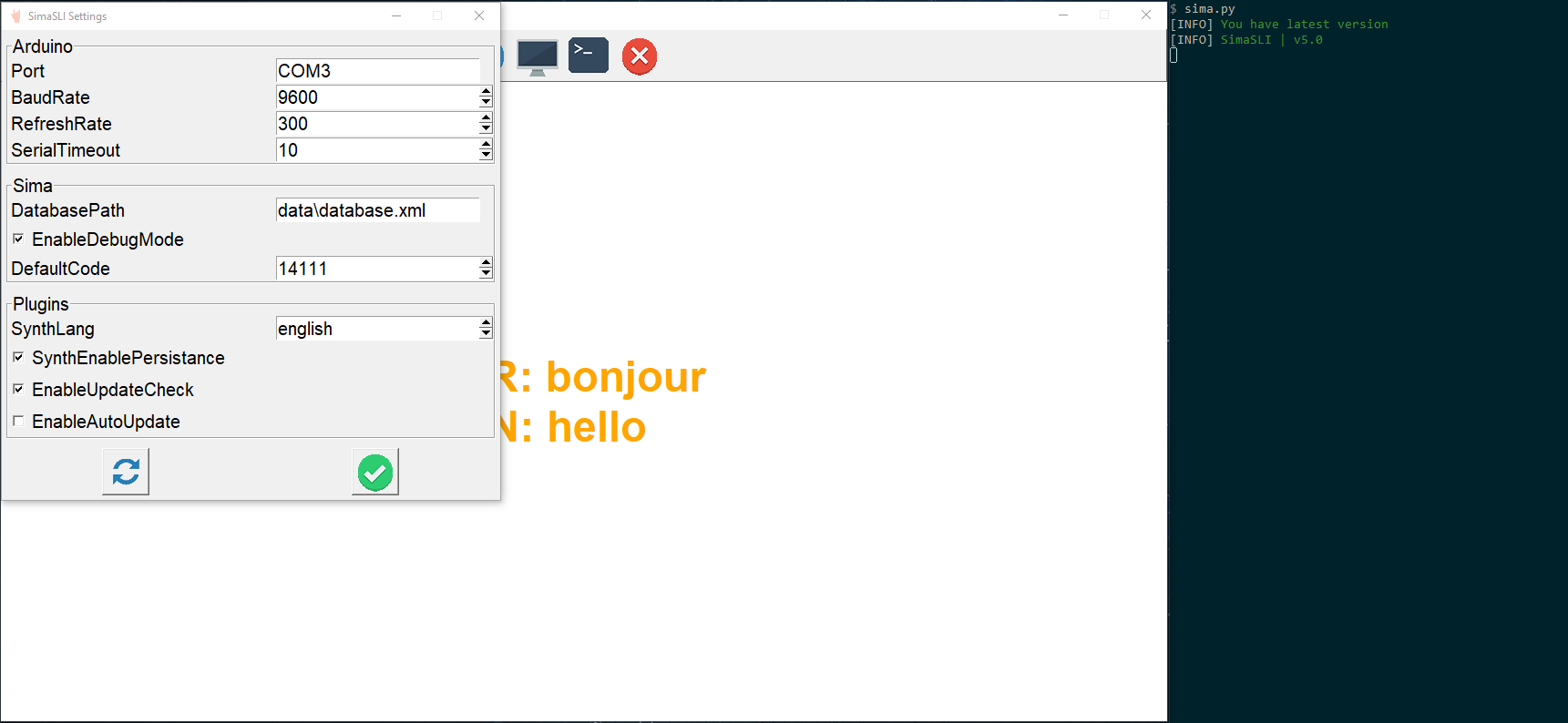 Database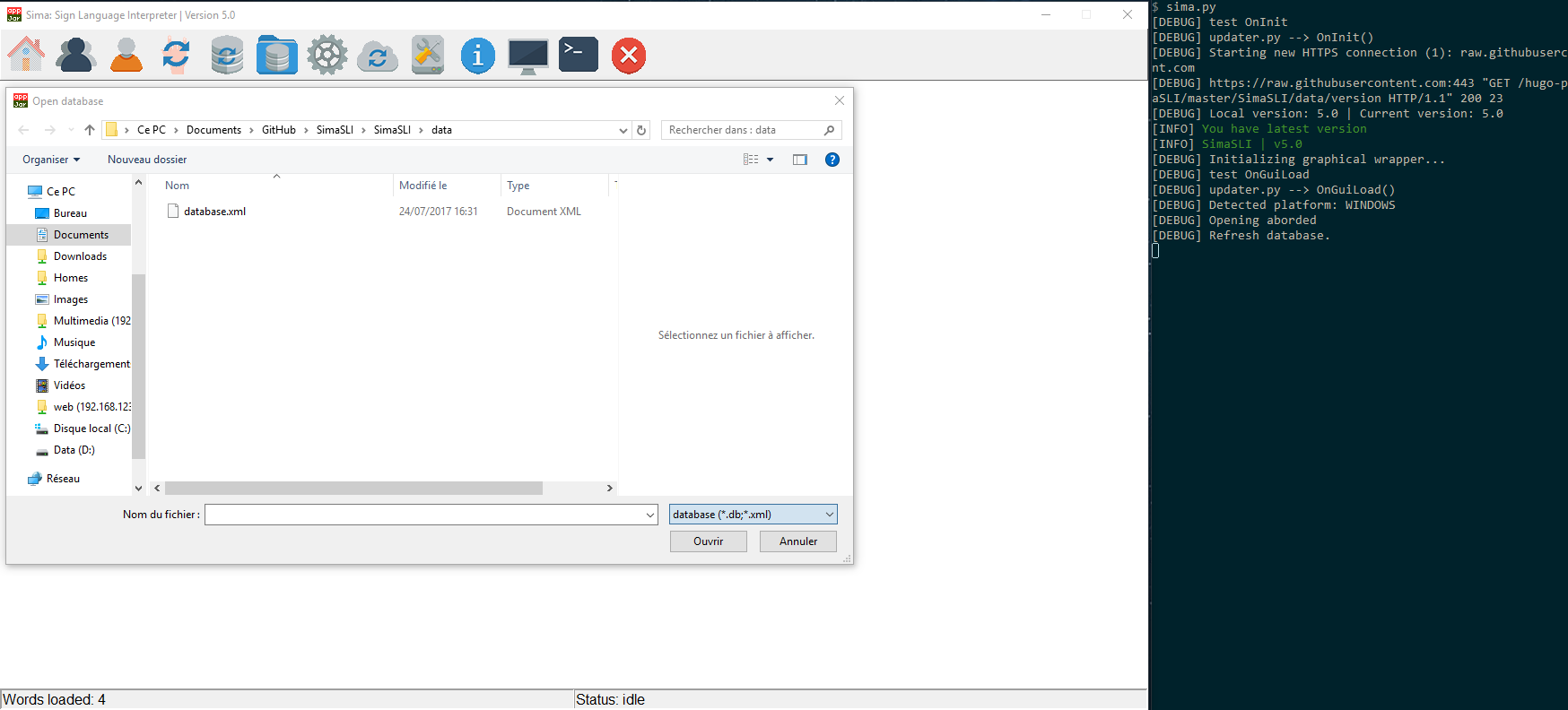 Plugin Manager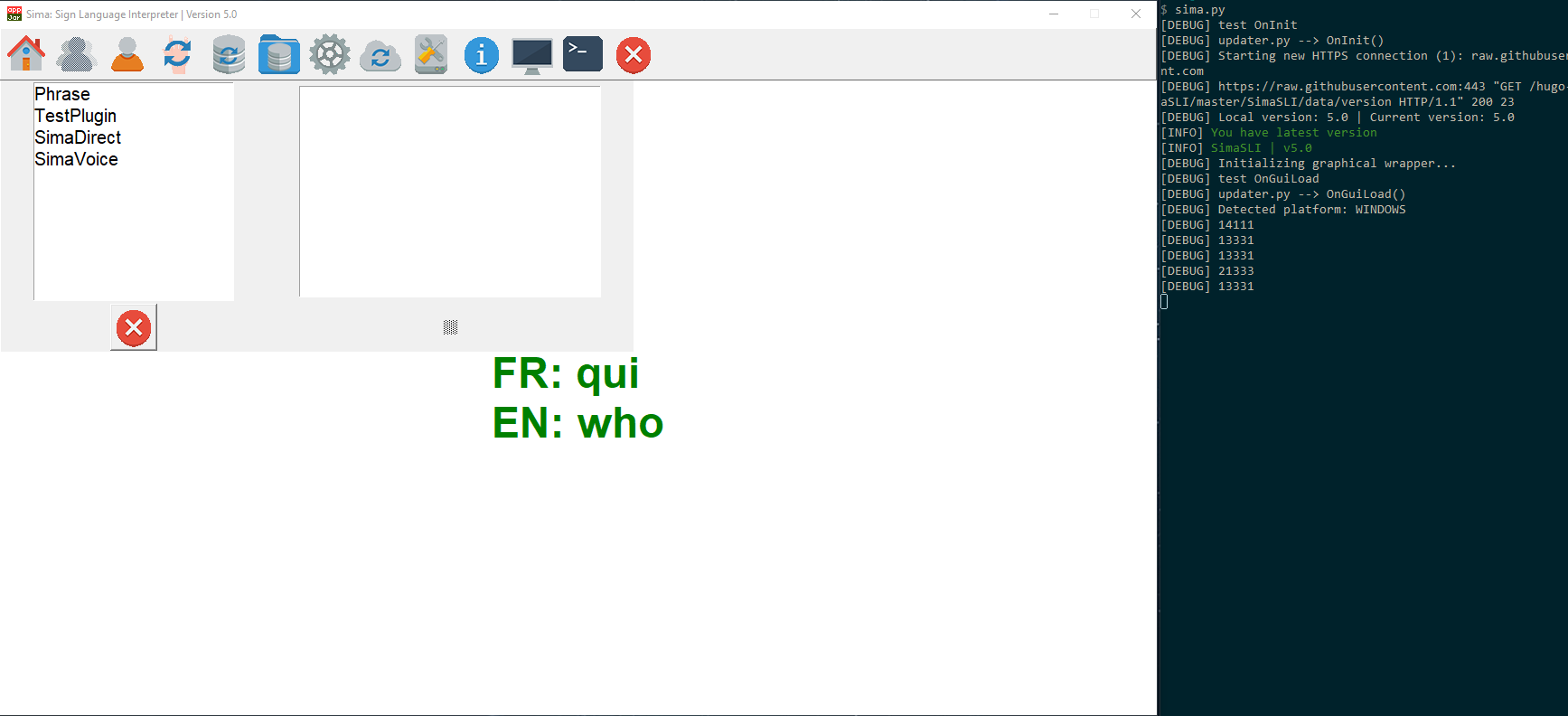 Learning mode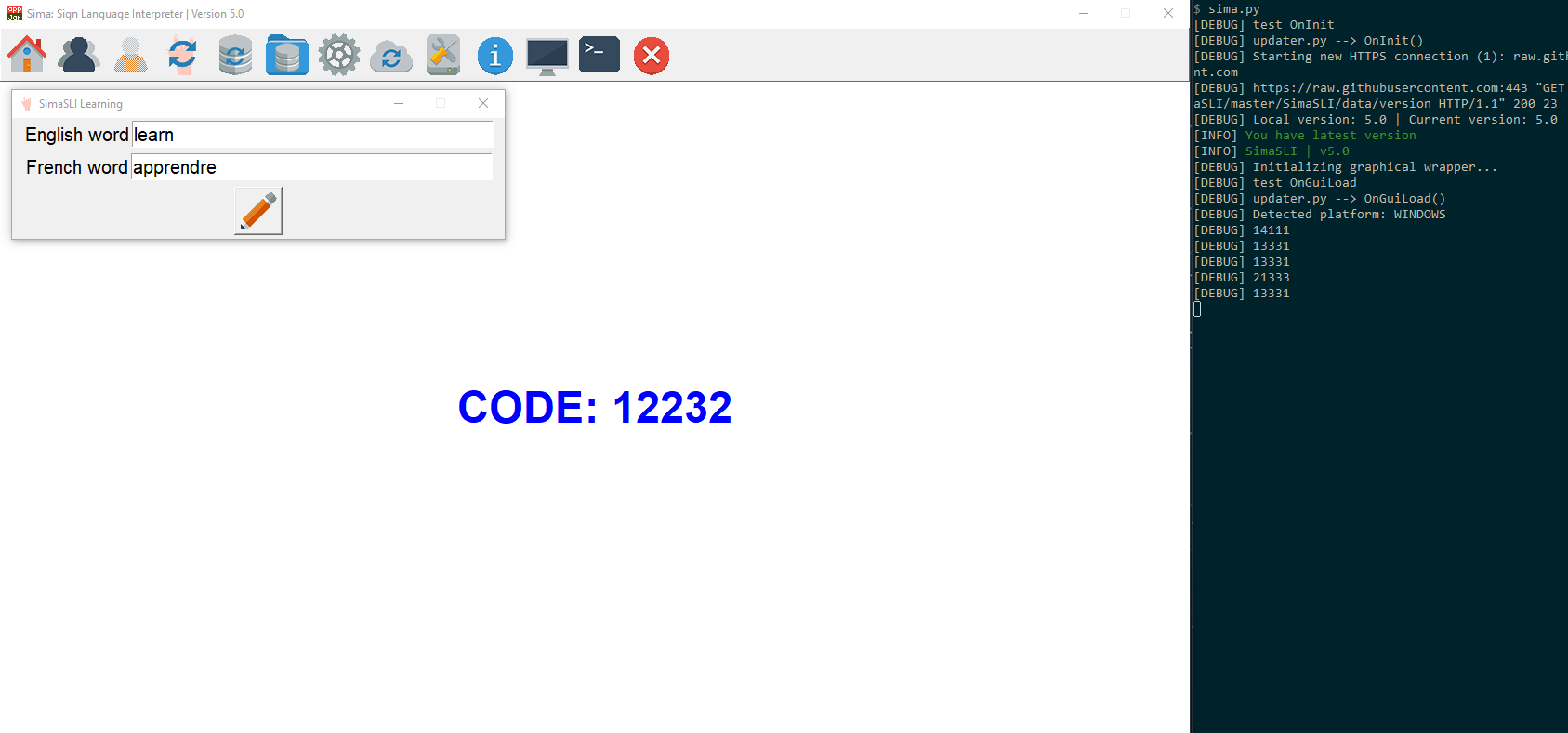 Plugins
In SimaSLI v5.0 a plugin loader has been implemented.
You can easely add and even create plugins.
It works with our global calls system.
For example:
def OnInit():
	logger.log(0, "myplugin.py --> OnInit()")

It will result with a nice message text in the console when Sima starts.
All functions are registred in the TestPlugin.py file (don't delete it).
When you create a plugin you must provide a XML file with the exact same name. And it must contain the plugin's informations.
<?xml version="1.0" encoding="UTF-8"?>
<plugin>
    <name>What a wonderful plugin</name>
    <description>it's my wonderful plugin</description>
    <version>0.1</version>
    <state>enabled</state>
</plugin>

Take a look of our plugins to understand the global calls system.
SimaVoice
Allows Voice Synthesis in SimaSLI v5.0
New audio engine: playsound. Bye PyGame mixer!
Voice Python Object.
It's a plugin. It means you can disable it or even delete the file and Sima will continue to works.
It uses 2 calls of global calls system:
OnInit()

OnInterpreter(word)

OnGuiClose(app)

SimaDirect
It's an update-checker and auto-updater.
Basically it's an integration of my downloader.py app wich is available in gist.
This plugin creates a new object Updater on initialization of Sima. Then if an update is available it launch the downloader.py with the right arguments.
It uses 2 calls of global calls system:
OnInit()

OnUpdate()